Original Fabco PANCAKE® Cylinder by Fabco-Air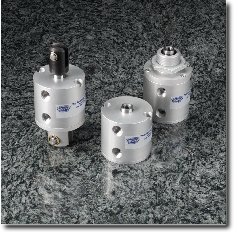 The Fabco Original PANCAKE® Cylinder was designed in 1958 to satisfy a need for short stroke cylinders that would fit in very tight spaces. The Fabco-Air Pancake Air Cylinder line has set the performance standard for miniature air cylinders.
Order Fabco Pancake Cylinders Online
Today with over 4 decades of experience in thousands of cylinder applications around the world, The FABCO PANCAKE® Line offers far more than any of its imitators - More Features and Options - Better Quality, Strength and Appearance - Far Longer Product Life.
Features:
8 Bore Sizes (1/2" to 4")

Strokes to 4"

Machined from Aluminum Bar Stock

Duralon® Rod Bearing for Reduced Wear
Prelubed with Magnalube-G® Grease

Chrome Plated Stainless Steel Piston Rods

Air Service to 250 PSI

Hydraulic Service to 500 PSI

Dozens of Options Available

Magnetic Piston Sensing Available
Literature

Pancake Cylinders
Literature
Catalog of Fabco's famous Pancake Air Cylinders. Pneumatic cylinders designed to fit in small spaces.
[ Download ]
(1386kb)