GB Series Block Style Slides by Fabco-Air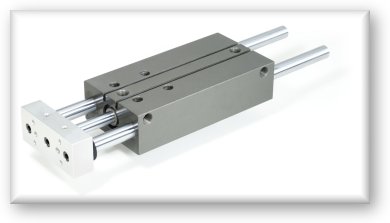 Fabco-Air has introduced a new line of Linear Thruster to the family of Linear Slides. These new "GB" Series Block Style Slides are available in 12mm, 20mm and 32mm bore sizes with strokes of 1/2" to 6" available in 12mm bore and 1" to 10" in the others. This along with numerous features and options to provide you with the solutions you have been looking for.
List of

NEW

Key Features

Longer strokes:


GB375 - Now 1/2" thru 6" strokes
GB500 - Now 1" thru 10" strokes
GB750 - Now 1" thru 10" strokes

Two 4mm keyhole sensor mounting slots.

New round profile sensors with advanced technical features.
List of

Standard

Features

Tapped/thru mounting hole combination top & bottom.

Tapped holes front face of toolbar (4)

Clear anodized toolbar, hard anodized bearing block.

Extend and retract bumpers.

Replaceable sleeve bearings.

Side tapped mounting holes in body.

Slip fit dowel holes/slots on bottom and side of body.

Toolbar is slightly narrower than body allowing side mounting of slide with clearance between toolbar and mounting surface.

Slip fit dowel hole/slot on front face of toolbar.

Top and side ports.

Rear tapped holes in body - can be used for rear flange mounting.

Toolbar has front faced tapped holes (4) counterbored on back.

Toolbar has vertical tapped/counterbored mounting holes.

List of versatile

Options

Available

V - Viton seals allow operation to 325°F.

E - Magnetic piston for position sensing.

T1 - "Blank" toolbar.

A - Pair of clamp collars with rubber bumpers for extend adjustable stop.

B - Rear clampbar with rubber bumpers for extend adjustable stop (instead of collars).

C - Tapped guide shafts at rear.

D - Rear stopbar, stop bolt and stop plate for adjustable extend stop.

F - Rear toolbar, same as front toolbar with matching hole pattern