E SERIES SLIDES by Fabco-Air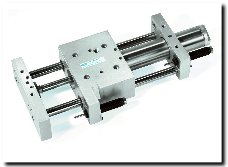 Either of two slide styles can be made from a single set of subassemblies; The "EO" On Board Thruster Style and the "EG" Gantry Style Slide. Users can inventory less and assemble specific models only as needed.
Basic Slide Construction:
Construction consists of a bearing block with four(4) preloaded, sealed, linear ball bearings, two(2) case hardened and ground guide shafts (Straightness .0015" per foot; 9-14 microinches RMS), and front and rear toolbars. Toolbars and bearing block are clear anodized aluminum , machined on all surfaces for squareness. Tapped holes on all mounting surfaces are standard, as are slip-fit dowel holes/slots to insure repeatedly precise tooling attachment. Power is provided by a "cartridge" style, nose mounted, stainless steel body air cylinder.
"EO" On Board Thruster Style

The cylinder and its floating rod coupler can be installed "on board" by threading the cylinder nose into the bearing block housing and pinning the rod coupler to the front toolbar. O-rings seal against the cylinder body forming a chamber around its retract port accessed by connecting top, bottom and side ports in the bearing block. Unused ports get plugged.

In this configuration the bearing block is fixed and the toolbars reciprocate. The rear toolbar has an oversized hole allowing it to pass freely back and forth over the cylinder body.
"EG" Gantry Style Slide

With the simple addition of a flange mounting plate on the nose of the air cylinder, the same components of the Thruster Style are used to convert the unit into a Gantry Style slide.

The cylinder flange is bolted to standard tapped holes in the rear toolbar; the floating rod coupler is pinned to the rear of the bearing block via standard dowel holes. With the toolbars and the cylinder remaining stationary, the bearing block acts as a reciprocating carriage.