Numatics Rod Locking Series by Numatics Actuators and Motion Control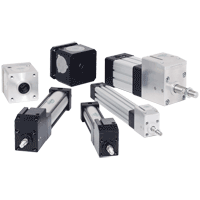 Numatics Rod Lock Units are often used to hold a cylinder load stationary during Emergency Stop (E- Stop) conditions. They are also designed to mechanically lock a cylinder piston rod in the event of an air supply failure. Use caution when applying a Rod Lock unit. The Rod Lock should not be used to "brake" the cylinder piston rod in dynamic conditions. Aditionally, the lock must only be applied when movement has ceased.
We offer two different Rod Locking Units. The NU Lock Series and the RL Series. Both units can be used with our NFPA Interchange cylinder line (A Series) as well as with our ISO 6431 and VDMA 24562 cylinder line.
Nu Lock Series Features:
Economical OEM type rod lock

Compact Profile

NFPA sizes: 1-1/2" - 5" bores

VDMA sizes: 32 mm to 125 mm bore

Clamping force on all Nu Lock Series unit is equal to the area of the cylinder piston at 145 psi (10 Bar)

Minimum unlocking air pressure is 45 psi (3 Bar)

All standard NFPA and ISO/VDMA mounting accessories can be used with the Nu Lock Series installed on the cylinder
Temperature rating: -10° F to 165° F
RL Series Features:
Unique tilting plate, spring-to-lock mechanism.

NFPA sizes - 1 1/2" to 5" bore

VDMA sizes - 32mm to 125mm bore

Magnet on unlocking piston is standard. Use Numatics new low profile reed or electronic switches to sense when the unit is locked or unlocked.

Powerful locking forces

Clamping force on all units is equal to the area of the cylinder piston at 100 PSIG

Manual override

Unlocking air pressure 60 psi (4 BAR) minimum

All standard NFPA or ISO/VDMA mounting accessories can be used with Locking Unit installed
Literature