Robo Cylinder RCS Series by IAI Intelligent Actuator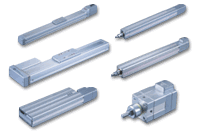 The Robo Cylinder® RCS series feature AC servo motors integrated with the ballscrew, eliminating the need for a coupling. Model types include slider, folded-motor slider, rod, and single, double, or ball-bushing type guided rod actuators. RCS actuators utilize incremental or absolute optical rotary encoders. Due the use of an AC Servo motor, the RCS is best suited to high-speed, low-payload applications requiring constant torque. All Robo Cylinder controllers can be operated by either a Teaching Pendant or our PC Interface Software
Slider
The RCS Slider type actuators feature an integrated ballscrew / motor shaft construction which reduces overall length. A stainless steel sheet covers the ballscrew and prevents dust and foreign objects from entering the actuator housing. RCS Slider type Robo Cylinders are available in four actuator base widths:
SA4 (40mm) SA5 (50mm) SA6 (56mm) SS (60mm) SM (60mm)
Stroke lengths range from 50 to 1000 mm.
Folded Motor Slider
For applications with extreme space constraints, the SS and SM types are available in Folded Motor configurations as well.
Rod
RCS Rod type actuators are available in either Short or Slim Body shapes. Both are also available with single or double guides, and the Slim Body series also features side-mounted Folded Motor configurations for shorter overall lengths.
The RCS Rod type Slim Body actuator features cross-sectional dimensions similar to that of an air cylinder, and is available in widths of 35, 45, and 55 mm. The Slim Body actuators are available in both an in-line motor configuration, termed the Straight type, and an overall length reducing Folded Motor type.
The RCS Rod type Short Body actuators feature overall lengths similar to those of air cylinders.
Guided Rod
Both the Slim Body and Short Body types are also available in single or double guided versions in anticipation of radial loads. Note that the position of the single guide may be specified, as may be the motor / encoder cable exit directions.
Flat
The RCS Flat Type actuators employ a linear motion guide for use with high moment loads. Available in stroke lengths from 50-300 mm. Selection of two frame sizes and three motor wattages. T-slots on the base enable various mounting configurations.
CE versions also available.