Fastvac Vacuum Pump VP10 by Vaccon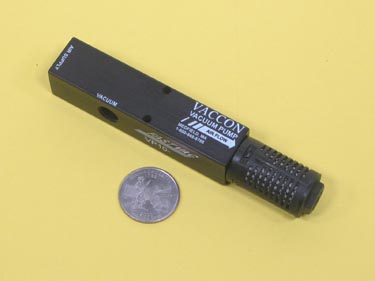 In keeping pace with industry's need for improved automation and material handling methods, Vaccon introduced the FASTVAC Series. The FASTVAC Series provides maximum design flexibility by using a modular component approach.
Integrating a venturi vacuum pump, sensors, and solenoid valves within one assembly, the FASTVAC Series provides complete vacuum systems capable of interfacing with computerized control systems.
7 body styles and 16 models offer you a wide range of sizes and performance levels - L models produce up to 10"Hg, M models produce up to 20"Hg, and H models produce up to 28"Hg.
Customize your pump with optional factory installed gauges, valves, switches and sensors.
All Vaccon pumps operate at 80 psi. To order pumps to operate at 60 psi, please add -60 to the model numbers i.e. VP0X-60H-60.
All Vaccon pumps are made of anodized aluminum. Other materials may be available at an additional charge, please consult factory.
All Vaccon VP Series vacuum pumps come standard with a Vaccon silencer that has been sized to ensure adequate flow
Literature