CDF Series Air Amplifier by Vaccon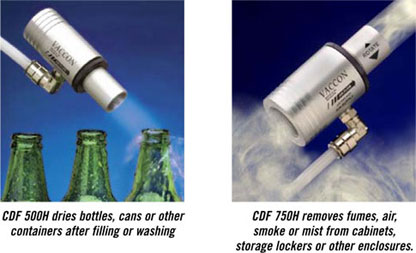 Vaccon air amplifiers generate both high suction flow and a high exhaust flow using very little compressed air. High suction flow is useful in fume extraction, dust removal, large vessel evacuation, pick and place of porous materials, etc.
The high exhaust flow can be used to cool electronic components, as an air wipe for dispersing fluids, or wherever raw compressed air is being used that requires high flow but not high pressure.
Customize the performance to the application by simply rotating the exhaust section to increase or decrease flow.
7 models are available with bore diameters ranging from 1/8" to 2".
Performance: Vacuum flow up to 350 SCFM / Vacuum levels up to 8"Hg. / Amplification ratios (output/input) up to 40:1.
Literature