DF Series Material Transfer Pump by Vaccon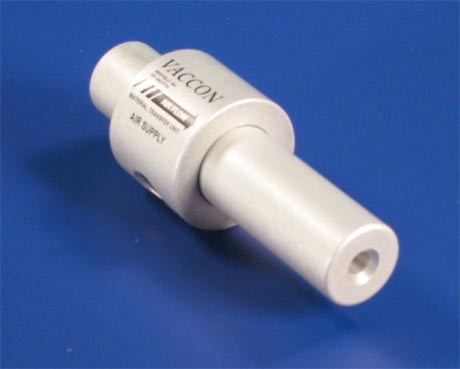 The DF Series offers a reliable, in-line method to transfer complex shapes
and bulk materials. Some common applications are single part transfer to and
from assembly machines, scrap removal from stamping or trimming operations.
Order Vaccon DF Material Transfer Online

Transfer of granulated materials for hopper loading on injection molding
machines, and overfill reclamation in filling machines. Air speed is
controlled by regulating the input pressure from 3PSI to 120PSI.

Instantaneous response is possible by integrating a solenoid valve with the
DF unit.

15 models are available with bore diameters ranging from 1/8" to 4".

Performance: Vacuum flow up to 375 SCFM / Vacuum levels up to 10"Hg.

All Vaccon pumps are made of anodized aluminum. Other materials may be available at an additional charge, please consult factory.
All Vaccon VP Series vacuum pumps come standard with a Vaccon silencer that has been sized to ensure adequate flow
Literature