Bi Metal Thermometers by Noshok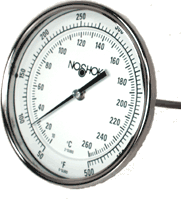 NOSHOK
quality in a pressure gauge is a well documented fact. Now that same quality is available in Bimetal Thermometers.
In 1973, NOSHOK was the first company to offer an extended 3 year warranty on specific pressure gauge and now we offer a five year warranty on our 300 Series Bimetal Thermometers.
NOSHOK recommends Thermowells for pressure, corrosive fluids, and high velocity applications.
In addition, the added use of a Thermowell allows an instrument to be removed and replaced without shutting down and possibly draining the process.
Literature

Bi Metal Thermometers
Literature
Noshock Thermometers
[ Download ]
(7272kb)