Transducers, Transmitters, by Noshok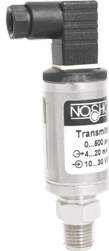 Every
NOSHOK
Transmitters, Transducers, and Indicators are completely inspected and tested before shipment to assure 100% "out of the box" reliability.
All of NOSHOK's Indicators can be pre-programmed and calibrated to our customers' specifications.
NOSHOK makes installation easy and performance dependable.
NOSHOK also has the built in capability to provide you with the assistance to put together that special requirement which is so often hard to find. If it is not in our catalog, chances are we can still put it together.
Literature

Electronic Measurement Catlog
Literature
Noshok electronic measurement catalog
[ Download ]
(4145kb)

Measurement Solutions
Literature
Noshok measurement solutions
[ Download ]
(2789kb)