RM Series Rotary Actuator by Numatics Actuators and Motion Control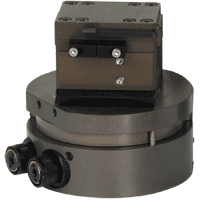 The Numatics RM Series Rotary Manifold utilizes a unique concept in transferring air pressure thru fixed ports to rotating parts on the rotary platform. As shown, the rotary manifold and gripper is a clean compact assembly which allows the gripper to rotate freely without rotating air lines.

Features:
Actuator: Available on LR06 & LR20 Rotary Actuator - 90/180 degrees of rotation.
Stationary Flanged Port Plate: Delivers air pressure to rotating component (Gripper) & eliminates Airlines from tangling.
Parallel Gripper: Several series of grippers are available.