Numatics NRG Gripper by Numatics Actuators and Motion Control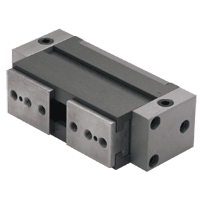 Synchronized Motion: Two opposing pistons share a common bore. Each piston transfers force and motion (undiminished) independently to each slide. The motion of both pistons is guided through a single piece mechanism which provides self centering motion of each slide, repeatable within 0.002 inches. Gripping force and synchro-nization are totally independent of each other. This results in minimum wear and maximum performance life.
Compliant Motion: The compliant gripper utilizes the same construction as described above, except the single piece mechanism providing synchronized slide motion is removed. The slides are now independent of each other, allowing the gripper to comply to the part's position. Once the part has been gripped, its exact position is held. Position drift does not occur. Compliant grippers offer an economical solution, potentially eliminating the use of a compliant wrist.
Features:
Body: One piece construction for maximum rigidity. Hardcoat Teflon ®impregnated inside and out. compact, lightweight, high grip force to size ratio.
Slides: Slides are 100% engaged in body throughout the entire stroke length. Electroless Nickel plated. No external arms, reduced pinch points, OSHA
Synchronize: The synchronizing mechanism is housed internally, protected from external contamination. Hardened tool steel.
Position Sensing: Position sensor mounting track and magnetic pistons, standard on all models. Easy access, total adjustability, factory or field installed
Literature