Numatics TJ Gripper by Numatics Actuators and Motion Control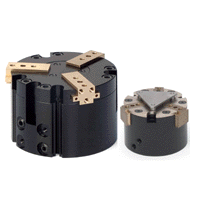 The Numatics
TJ Series
grippers provide high grip force in a compact design. Shielded design make the TJ series ideal for machine loading and unloading. Compact design, to grip force ratio are ideal for confined work areas.
Features:
Jaws are T-Slot bearing supported to prevent jaw breakage and offer superior load bearing performance.
Felxible mounting, thru hole for SHCS, tapped from opposite side.
Dowel holes for locating.
Hardcoated aluminum body.
Sensing tracks for Hall effect switches.
Optional stripper plate (TJ30 series).
Literature

Numatics TJ Gripper Catalog
Literature
Numatics TG Series Gripper
[ Download ]
(1072kb)