Numatics RPG Gripper by Numatics Actuators and Motion Control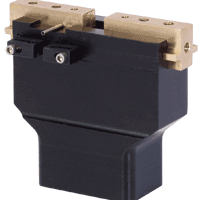 The Numatics
RPG Series
has true parallel motion that is generated by a double acting piston attached to the pinion mechanism with a linkage that is guided in the body for precise centering.
Features:
Body: Hardcoat Anodized, Teflon impregnated inside & out high force to weight ratio.
Jaws: Jaws are aluminum bronze alloy to prevent breakage. T-Slot style jaws offers superior load bearing capabilities.
Sensing: Proximity switches available for sensing open and closed positions.
Literature

RPG Gripper
Literature
Numatics Series RPG Gripper
[ Download ]
(761kb)