Hansen Hydraulic Flat Face Coupling by Hansen Couplings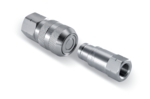 This Hansen Two-Way Coupling is a flat face, dry break (minimum spill), hydraulic device that meets or exceeds the ISO 16028 standard. The flat face coupling is ideal for applications where hydraulic spillage is a concern and interchangeability with other manufacturers is important. The device has a standard sleeve lock feature to prevent accidental disconnection and an easy, push-to-connect design. It operates at a 5075 psi maximum operating pressure and has excellent mechanical performance. Dust caps and dust plugs are available accessories.
Details:
Steel
Pressures up to 5075 PSI
Flow rates up to 85 gpm
Suitable for hydraulic circuits, public works, agriculture, iron and steel, railway and other industries.
Features:
5075 psi maximum operating pressure for all sizes (connected and disconnected)
Automatic connection
Sleeve lock
Available in NPT, BS and SAE threads
Deeper knurling provides an improved grip
Excellent mechanical performance (pressure/fl ow)
RoHS Compliant
Meets or exceeds ISO 16028 standard
Optional – colored rings for quick identification
Applications:
Construction Equipment
Skid Steer Loaders
Mining Equipment
Public Utilities
Hydraulic Tools & Accessories
Agricultural Equipment
Railway Maintenance
Overhead Bucket Hoists
Materials:
Socket body: Zinc-plated steel
Plug body: Steel, QPQ finish
Sleeve: Steel, QPQ finish
End connections: Zinc-plated steel
Valves: Zinc-plated steel
Springs: Steel and stainless steel
Balls: Stainless steel
Seals: Nitrile and polyurethane
(Other body and seal materials available upon request)
Dust Caps and Plugs:
PVC: Red or black depending on size
(Other materials available upon request)
Applications:
Public Utilities
Construction Equipment
Agricultural Equipment
Mining Equipment
Railway Maintenance
Overhead Bucket Hoists
Skid Steer Loaders
SOCKETS

Part Number

Nominal Diameter

Thread Detail

Dust Plugs

6FFS25
1/4"
1/4" NPT
SDC6FF
6FFS25BS
1/4"
1/4" BSPP
SDC6FF
6FFS56UN
1/4"

9/16" UNF

SDC6FF
10FFS37
3/8"
3/8" NPT
SDC10FF
10FFS37BS
3/8"
3/8" BSPP
SDC10FF
10FFS50
3/8"
1/2" NPT
SDC10FF
10FFS50BS
3/8"
1/2" BSPP
SDC10FF
10FFS16FMET
3/8"
M16 x 150
SDC10FF
10FFS56UN
3/8"
9/16" UNF
SDC10FF
10FFS75UN
3/8"
3/4" UNF
SDC10FF
10FFS87UN
3/8"
7/8" UNF
SDC10FF
10FFS56ORM
3/8"
9/16" UNF*
SDC10FF
10FFS75ORM
3/8"
3/4" UNF*
SDC10FF
12FFS50
1/2"
1/2" NPT
SDC12FF
12FFS50BS
1/2"
1/2" BSPP
SDC12FF
12FFS106UN
1/2"
1 1/16" NPT
SDC12FF
12FFS75
1/2"
3/4" NPT
SDC12FF
12FFS75BS
1/2"
3/4" BSPP
SDC12FF
12FFS75UN
1/2"
3/4" UNF
SDC12FF
12FFS87UN
1/2"
7/8" UNF
SDC12FF
16FFS50
5/8"
1/2" NPT
SDC16FF
16FFS50BS
5/8"
1/2" BSPP
SDC16FF
16FFS75
5/8"
3/4" NPT
SDC16FF
16FFS75BS
5/8"
3/4" BSPP
SDC16FF
16FFS75UN
5/8"
3/4" UNF
SDC16FF
16FFS87UN
5/8"
7/8" UNF
SDC16FF
16FFS106UN
5/8"
1 -1/16" UN
SDC16FF
19FFS75
3/4"
3/4" NPT
SDC19FF
19FFS75BS
3/4"
3/4" BSPP
SDC19FF
19FFS131UN
3/4"
1 5/16" UNF
SDC19FF
19FFS100
3/4"
1" NPT
SDC19FF
19FFS100BS
3/4"
1" BSPP
SDC19FF
19FF106UN
3/4"
1-1/16" UN
SDC19FF
25FFS100
1"
1" NPT
SDC25FF
25FFS100BS
1"
1" BSPP
SDC25FF
25FFS125
1"
1 1/4" NPT
SDC25FF
25FFS125BS
1"
1 1/4" BSPP
SDC25FF
25FFS162UN
1"
1 5/8" UN
SDC25FF
* External thread
PLUGS

Part Number

Nominal Diameter

Thread Detail

Dust Caps

6FFP25
1/4"
1/4" NPT
PDC6FF
6FFP25BS
1/4"
1/4" BSPP
PDC6FF
6FFP56UN
1/4"
9/16" UNF
PDC6FF
10FFP37
3/8"
3/8" NPT
PDC10FF
10FFP37BS
3/8"
3/8" BSPP
PDC10FF
10FFP50
3/8"
1/2" NPT
PDC10FF
10FFP50BS
3/8"
1/2" BSPP
PDC10FF
10FFP16FMET
3/8"
M16 x 150
PDC10FF
10FFP56UN
3/8"
9/16" UNF
PDC10FF
10FFP75UN
3/8"
3/4" UNF
PDC10FF
10FFP87UN
3/8"
7/8" UNF
PDC10FF
10FFP56ORM
3/8"
9/16" UNF*
PDC10FF
10FFP75ORM
3/8"
3/4" UNF*
PDC10FF
12FFP50
1/2"
1/2" NPT
PDC12FF
12FFP50BS
1/2"
1/2" BSPP
PDC12FF
12FFP106UN
1/2"
1 1/16" NPT
PDC12FF
12FFP75
1/2"
3/4" NPT
PDC12FF
12FFP75BS
1/2"
3/4" BSPP
PDC12FF
12FFP75UN
1/2"
3/4" UNF
PDC12FF
12FFP87UN
1/2"
7/8" UNF
PDC12FF
16FFP50
5/8"
1/2" NPT
PDC16FF
16FFP50BS
5/8"
1/2" BSPP
PDC16FF
16FFP75
5/8"
3/4" NPT
PDC16FF
16FFP75BS
5/8"
3/4" BSPP
PDC16FF
16FFP75UN
5/8"
3/4" UNF
PDC16FF
16FFP87UN
5/8"
7/8" UNF
PDC16FF
16FFP106UN
5/8"
1 1/16 UN
PDC16FF
19FFP75
3/4"
3/4" NPT
PDC19FF
19FFP75BS
3/4"
3/4" BSPP
PDC19FF
19FFP131UN
3/4"
1 5/16" NPT
PDC19FF
19FFP100
3/4"
1" NPT
PDC19FF
19FFP100BS
3/4"
1" BSPP
PDC19FF
19FFP106UN
3/4"
1 1/16 BSPP
PDC19FF
25FFP100
1"
1" NPT
PDC25FF
25FFP100BS
1"
1" BSPP
PDC25FF
25FFP125
1"
1 1/4" NPT
PDC25FF
25FFP125BS
1"
1 1/4" BSPP
PDC25FF
25FFP162UN
1"
1 5/8" UN
PDC25FF
* External Thread