Hansen Agricultural Couplings by Hansen Couplings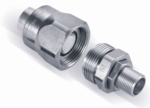 The Hansen screw-to-connect K-8000 series is used in agricultural hydraulic applications and is compatible with other couplings with the same profile. Its flat face design minimizes spillage during disconnections and limits inclusion of air into the circuit during connections. Its design and hardened materials give high resistance to mechanical and hydraulic demands. Connection is complete after screwing up the locking sleeve. Working pressure is up to 250 bar/3,625.

Size available is 8 mm, with female or male end connections and BSPP or metric threads, depending on version.
Features:

Double shut-off couplings
Connection by screwing up the locking sleeve
Minimum entry of air and loss of fluid
Dust caps and plugs
Materials:
Body: Zinc-plated steel or zinc-plated steel, bichro.
Sleeve: Zinc-plated steel, bichromate
End connection: Zinc-plated steel, bichromate
Valve support: Zinc-plated steel
Valves: Zinc-plated steel or zinc-plated steel, bichro.
Locknut: Zinc-plated steel, bichromate
Springs: Steel or stainless steel
Seals: Nitrile
Applications:
Tractors, agricultural and forestry machinery and equipment
Part Numbers and Dimensions


Part Numbers

DN/ND (mm)

Connection (F)


Socket + Dust Plug

Dust Plug Only
Plug + Dust Cap
Dust Cap Only
KA 08327 18
KA 08127 00
KA 08324 12
KP 08124 00

8

M18 x 150

-
-
KA 08324 13
KP 08124 00

8

M20 x 150

-
-
KA 08024 12
KP 08124 00

8

G 1/2