Mark 40 by Numatics Air Valves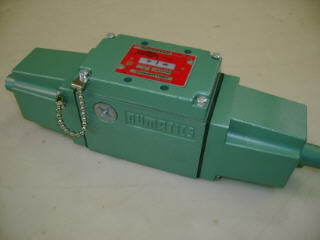 The Numatics Mark 40 air valve is available in direct solenoid actuated single solenoid or double solenoid 4 way configurations. Valves such as the 34SAD4000K and 34DSA400K are in stock for immediate shipment.
Order Numatics Mark 40 Valves Online
Even though the bases for these valves have been discontinued, we still have an inventory of Mark 40 single solenoid and double solenoid valves. We also have available a kit Part # AOS55-40-P for $129 that will allow you to attach the new Mark 55 valve your old Mark 40 manifolds so you don't need to replumb the fixture! The AOS55-40-P kit is 1.19" thick (the same thickness as a speed control sandwich) and has an integrated MK55 Plug to make the electrical connection to the new Mark 55 valve.
We have over 35 years of experience with Numatics Valves. Please let us know how we can help with your requirements or project.
Literature

Mark 40 Valve Catalog
Literature
The complete Numatics Mark 40 Air Valve catalog. Although this valve unit is still avaialble (2009), many of the accessories are not. Contact Air-Oil Systems for Numatics mark 40 valves and parts.
[ Download ]
(6427kb)