LS System Enhanced Valves by Enfield Technologies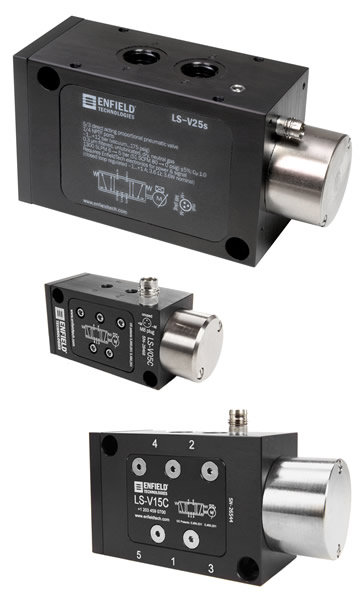 Features:
Proportional bi-directional control valve
5/3 (5-ported, 3-way) design. 3 extreme positions with infinitely variable controlled aperture intermediate positions
2.4 ms shifting time; 109 Hz
Unique, patented valve design utilizing a linear force motor with rare earth neodymium magnet
Faster and more accurate than solenoid valves
Normally closed, blocked center position when off
3 sizes with different effective apertures cover a wide range of volume and mass flow capacities
Rust resistant nickel-plated self-sheilding motor housing
Smooth, quiet, jitter free operation
1-part unified body. Permits higher pressures and less convoluted flow path.
Applications:
Proportional directional control
Proportional flow control
Proportional pressure control
Ultra-fast switching