Numatics Express 2 Day Shipping by Numatics Actuators and Motion Control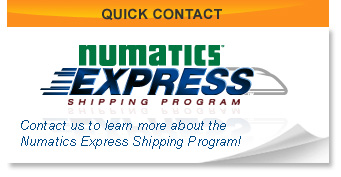 Introducing Numatics Express
2DAY SHIPPING PROGRAM
Numatics Express 2Day cylinder shipping program guarantees product shipment in two business days. The program includes both the A Series NFPA Interchangeable Line and the M Series Round Body Air Cylinder Line. Unlike most traditional quick ship programs, the Numatics 2Day Cylinder Shipping Program includes the most comprehensive offering in the industry. This program encompasses the range and options that you require!
Order Numatics Cylinders Online
Order Numatics Air Prep Online
Numatics Express Rapid Shipping Program Now Includes Valves & Manifold Assemblies


The Numatics Express rapid-ship program is only available to U.S. customers. Order quantities are limited to 10 individual valves or regulators and 5 assembled manifolds.
"Only Numatics Express can offer the combination of
Literature
Numatics Express 2 Day Shipping
Literature
2 day shipping on Numatics Actuators
[ Download ]
(1044kb)