Sentronic Plus by Numatics Air Valves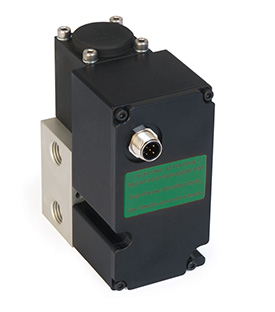 The Numatics SentronicPLUS direct-operated 3-way proportional valve with digital control. Valve control loop parameters can be optimized for the application using Data Acquisition Software (DaS) and a PC connection. This valve is designed for applications with very dynamic pressure requirements.
SentronicPLUS Specifications Include:
Fluids: Air or neutral gases
Pressure Ranges: 0-1.5 psi to 0-725 psi, 0-0.1 bar to 0-50
Port Sizes: 1/8, 1/4, 1/2, 1 (NPT or GTap)
Flow Capacity: 7.4 to 197.8 SCFM (210 to 5600 l/min at 6 bar)
Maximum Pressure: 29 to 870 psi (2 to 60 bar)
Temperature Range (Fluid): 32°F - 140°F (0°C - 60°C)
Temperature Range (Ambient): 32°F - 140°F (0°C - 60°C)
SentronicPLUS Features Include:
Digital communication and control
Application customization with DaS (Data Acquisition Software)
Easy change of control parameters
Analog feedback output
Direct-operated poppet valve
Vacuum service
Rated for potentially explosive atmospheres
Numatics Da S - Data Acquisition Software
Connect to a PC and use Numatics DaS to choose your own personalized settings to optimize control loop performance. Use the scope function to view command signal, output pressure and other control parameters while SentronicPLUS is running in the application.
Literature