NXS Series by Vacon AC Drives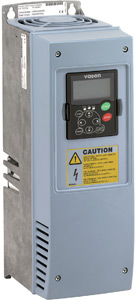 The Vacon NXS is a neatly-proportioned standard AC drive in the power range of 0.75 - 560 kW and supply voltages of 208-690 V for heavy use in machines, buildings and all branches of industry. The robust design incorporates effective protection against supply network disturbances. Reliable operation is ensured thanks to sophisticated motor control principles, motor/drive protection features, component selection and effective cooling.
Enclosure classes of IP21 and IP54 and integrated high-level EMC filters make the Vacon NXS suitable for all environments.
The Start-Up Wizard and the standard All-In-One Application Package make parameter setting extremely easy in all cases, from simple to complex