Manufacturer: Pickit3D 3D Vision for Robots
Pick-it is a robot vision solution that guides your robot to pick and place a wide variety of products for different applications. This unique solution finds overlapping products of varying sizes and keeps working even in changing and poor light conditions. Pick-it detects the exact 3D position, 3D orientation and dimensions of the products you want to be picked.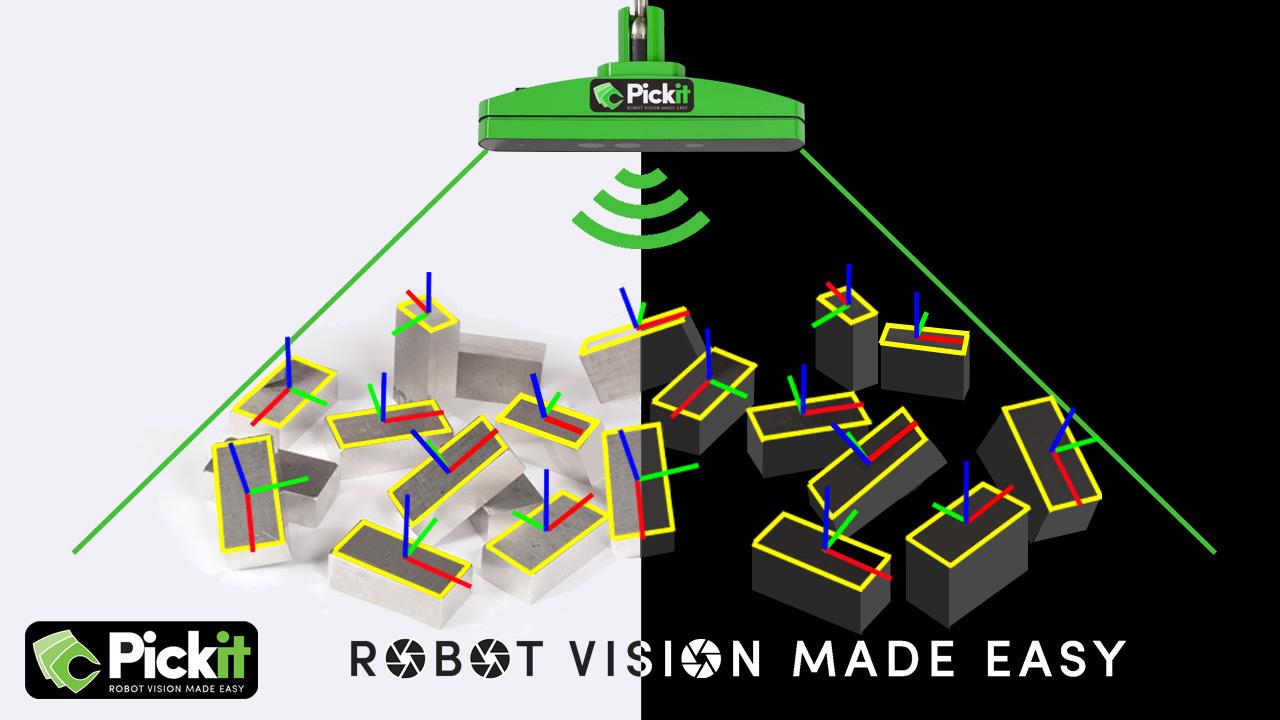 But as always the proof of the pudding is in the eating, so let's see Pick-it at work:
https://www.pickit3d.com/videos

Pick-it is an out-of-the box smart automation solution for a fixed price.
The Pick-it product includes:
The Pick-it 3D camera

The Pick-it software (Flex, Teach or both in the value bundle)

The industrial vision processor

All tools for robot-camera calibration and region-of-interest teaching

Integration with Universal Robots, ABB, Stäubli, KUKA, Fanuc and ROS
When to use Pick-it Flex ?
Use the Flex vision engine when you want to:
Find parts with simple 3D shapes in a variety of sizes

Find randomly overlapping parts in bin picking situations

Fast detection of parts
When to use Pick-it Teach ?
Use the Teach vision engine when you want to:
Find a part with a complex 3D shape

Have single-click part teaching
Both Flex and Teach can detect parts that are only partially visible or overlapping.
What's next?
To evaluate which product (Flex, Teach or Value Plus) and which camera (short or long range) solves your challenge best, we would like to review your application in the following way:
Pick-it: evaluates and gives you feedback about your challenge

You

: send us your product (+/- 20 samples)

Pick-it: performs

a real robot test

to demonstrate how Pick-it could solve this challenge

Together

: evaluate this test and discuss the steps to be taken
The first robot test is performed for free. You can however send us two extra products which can be tested under the Pick-it camera to assess the potential.

We are looking forward to solve your challenge
Literature
Page 2 Pickit 3D Brochure
Literature
Page 2 Pickit 3D Brochure
[ Download ]
(1418kb)