76 SERIES HARD COATED ALUMINUM BODY AIR CYLINDERS by American Cylinders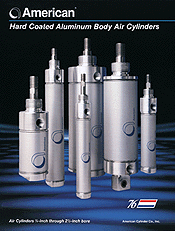 ALUMINUM CYLINDER BODY: Hard coating I.D. Aluminum Tubing has extreme hardness, excellent wear and seizure resistance, low coefficient of friction and high corrosion resistance.
STAINLESS STEEL ROD: Ground & Polished Type 303 Stainless Steel rods are standard on all models. Wrench flats and stress relief grooves are standard on all models.
PISTON ROD ASSEMBLY: Piston Rods are threaded, anaerobically sealed, and machine staked into the piston for triple protection.
END CAPS & PISTON: High strength aluminum alloy.
SPRINGS: Springs for spring action cylinders are made from music wire and designed for millions of cycles. Special spring forces are available upon request.
ROD GUIDE BUSHING: Standard on all models. The oil impregnated sintered bronze bushing increases the life of the cylinder rod and provides a non-abrasive bearing surface.
BUNA-N U-CUP ROD & PISTON SEALS: U-Cup seals provide low breakaway friction and maximize cylinder life expectancy. Standard Buna-N seals are recommended for operating temperatures of -20oF (-25oC) to 200oF (95oC). Fluoroelastomer seals are available for higher temperature applications.
ROD SEAL: Precision machined rod seal groove provides a smooth sealing surface while positively retaining the seal without requiring additional components and relying on press fit containment