LSC LINEAR SLIDE CYLINDERS by American Cylinders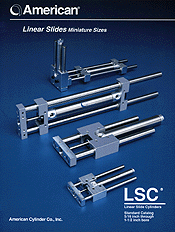 STAINLESS STEEL BODY: Type 304 Stainless Steel manufactured to special mill specifications and tolerances to insure a long cylinder life.
PISTON ROD ASSEMBLY: Ground & Polished Type 303 Stainless Steel piston rod with special accuracy specifications is threaded, anaerobically sealed, and machine staked into the piston for triple protection.
BUNA-N U-CUP ROD & PISTON SEALS: U-Cup seals provide low breakaway friction and maximize cylinder life expectancy. Standard Buna-N seals are recommended for operating temperatures of -20oF (-25oC) to 200oF (95oC). Fluoroelastomer seals are available for higher temperature applications.
MAGNETIC PISTON BAND: All units (except 5/16" bore) are provided with a magnetic piston band as standard for applications requiring position sensing. Hall Effect & Reed Switches are available as accessory items.
END CAPS & PISTON: High strength aluminum alloy.
GUIDE SHAFTS: Large diameter ground and polished special accuracy hard chrome plated stainless steel shafts act as the inner race for the precision sleeve bearings and provide a rigid attachment point for the tooling mounting bar.
TOOLING MOUNTING BAR: Sturdy aluminum alloy, machined top and front surfaces with standard tapped mounting holes. Special configurations available on request.
FLOATING COUPLER: Type 303 Stainless Steel, prevents cylinder rod binding ensuring longer life.
SHAFT BEARINGS: High performance Duralon * self-lubricating sleeve bearings provide smooth guided action for long life.
MOUNTING HOLES: Standard through mounting holes designed for standard cap screws. Alternative threaded mounting holes available as a standard option