Numatics Air Bellows by Numatics Actuators and Motion Control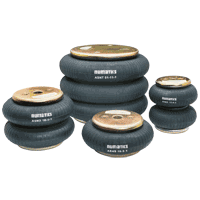 The Numatics Air Bellows is the Ideal pneumatic solution to short-stroke - High load cylinder / actuator applications. They are also able to provide a safe, quiet and consistant suspension system for vibrating and noisy machinery.
Standard Specifications
Diameters, 80 to 800mm
Stroke lengths up to 16 3/4"
Load capacity up to 15,000lbs.
Medium; Compressed air - filtered & non - lubricated
NPT or G ports
Operating Temperature, -40º C to + 70º C
Features
Single-acting low cost actuator, no maintenance or lubrication, no pistons or moving parts.
Diameters, 80 to 800mm
Stroke lengths up to 16 3/4"
Load capacity up to 15,000lbs
Medium; Compressed air - filtered & non - lubricated
NPT or G ports
Operating Temperature, -40º C to + 70º C (-40º F to + 140º F
Literature