100 Flow series by Vacon AC Drives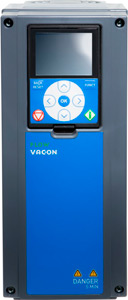 VACON 100 FLOW is an AC drive dedicated to improving flow control in Building Automation and Water & Wastewater applications. It combines core functionality of VACON 100 with features that are specifically designed for flow control applications, such as Multipump solutions and application selection menus.
VACON 100 FLOW builds on a long and illustrious track record in the industry. VACON 100 Flow further develops Multimaster technology, first introduced in 2002, to provide functionalities that significantly extend flow systems' lifecycle and reduce operational costs. Compared to conventional control schemes, VACON AC Drives are typically able to reduce energy costs by as much as 30% in pump and fan applications, usually offering a return on investment of less than a year.