ACE Shock Absorbers

Purchasing ACE shocks is easy. ACE is the World Leader in Deceleration Technology ACE Shock absorbers are used to de-accelerate loads and enable any mechanical device to operate smoothly and efficiently providing longer life and reliability. ACE shock absorbers are made in the USA. Every shock is 100 percent tested prior to shipment.
Choose from self-compensating or adjustable models. Download the sizing software and catalog to help select the best product for your application.
In the broadest sense ACE shocks act the same as the brakes in your car.
Just like your car brakes, ACE shocks decelerate the loads quickly, gently and without any recoil or bounce back.
ACE Shocks are ideally suited for a simple and quick installation, e.g. in handling devices, rotary actuators, linear cylinders, linear cylinders and many more industrial applications.
ACE miniature and industrial shock absorbers always comply with the most demanding quality standards.
Shock absorber bodies and inner pressure chambers are fully machined from solid high tensile alloy steel. This gives a completely closed end, one-piece pressure chamber without seals or cir-clips.
The shock absorbers are maintenance free, self-contained hydraulic devices with the most innovative sealing technology and an extremely compact design.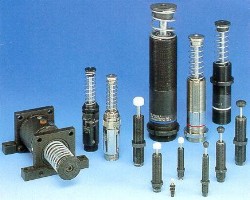 New ACE Gas Springs Made in America, Highest Quality, Fastest Delivery
We are a factory authorized distributor for ACE Controls, Industrial Shock Absorbers.
All of our products are brand new and covered by ACE factory guarantee
Part number and item description is displayed in Shopping Cart